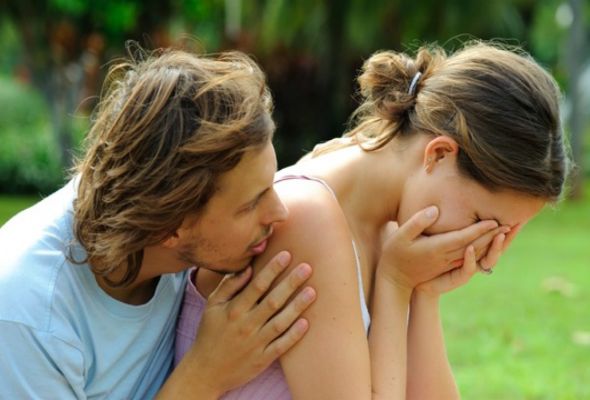 27th June 2014 | by MFC Team
My wife and I are starting our first IVF cycle. She has already found it pretty difficult that we haven't been able to get pregnant naturally. We've had all the tests done, and the doctors haven't found a reason why we're not getting pregnant. She's tearful and sad sometimes and I feel pretty helpless because I'm not sure how to help her. What suggestions do you have for how to support my wife through treatment?
Written by our mental health expert, Dr. Karen Kranz, Registered Psychologist. 
I am so glad you asked what you could do to best support your wife as she goes through an IVF cycle. Fertility challenges and treatments are one of the greatest stressors a couple may endure. An IVF cycle can go awry for many reasons, with most being out of your control. However, what is within your control is how you care for yourself and your wife during what inevitably will be a challenging and stressful process.
Below are 5 ways you could be helpful.
An IVF cycle is an emotional, physical, and financial burden for both of you. Your wife will bear much of the physical burden as well as additional psychological challenges. She may feel she has failed because she has been unable to bring a child into your lives without medical intervention, even if the source of the problem is unknown. Now that you're pursuing an IVF cycle, she needs to invest her body, mind, and heart in the process. You also need to invest fully in the process too – making your wife, and this cycle, your priority. Also, once the treatment process has begun, it is important that you don't complain about how much money the cycle is costing. This will just increase your wife's sense of self-blame or guilt for not being able to get pregnant "naturally".
Your wife is engaging in this taxing process on behalf of both of you. Be generous with your gratitude and admiration. Let her know you recognize the sacrifices she is making with her body (e.g., invasive medical procedures) and her emotional well-being (e.g., hormone shots that cause her to be emotional and moody). It is completely normal if she is sad and tearful, and that you feel helpless. At times she may also be angry and resentful that she has to go through this process to have a baby. Again this is normal. You cannot take away her pain but you can sit by her, reassuring her that the two of you will find a way to bring a child into your lives, and that whatever the outcome of this IVF cycle, you love her and it will be OK. It may not be easy to be on the receiving end of her emotions, but this is a good time to practice being kind, rather than being right.
Be informed. Do not be the partner that does not know what is happening and when. Learn about the process, ask how you can help, and attend the appointments with her. Throughout the process, decisions need to be made depending on how your wife's body is responding to the medications. Stay on top of those pivotal decision making moments and be prepared to discuss options with your wife. Before the cycle starts, ask her what she needs from you. Does she need a coach, a cheerleader, a hand to hold, a shoulder to cry on, or a good listener? She might need all of these things at different times. Practice tuning in to your wife's needs and if all else fails, ask her.
Take on a larger role in the overall management of the household. Help to prepare meals, do the laundry, walk the dog, do the grocery shopping. Ask your wife what else you can take off her plate so she has more time to rest if that is what she feels she needs. In addition, do sweet things for her (e.g., buy her flowers or special treats, write her a card, massage her feet).
Prepare for the two-week waiting period between embryo transfer and pregnancy test results. Make a plan with your wife in advance. Would it be a good time to leave town for a few days, perhaps explore someplace new, or is it better to be home in familiar surroundings, or some combination of both? Plan to be together when you get the results of the pregnancy test. Recognize that if this cycle does not result in a pregnancy, even though it will not be your wife's fault she may feel she has failed because the entire process was happening within her body – although not within her control.
An IVF cycle is an opportunity to deepen your connection with your wife. Take it on as a goal to be with her from the warmest, most gentle, most loving part of you.